Majdnem marathon, individual 40 km
The KKM is a lifetime experience!
Festetics Castle, a fast route ... what you need for your best time!
Entry fee
Price available
1970.01.01. - 1970.01.01.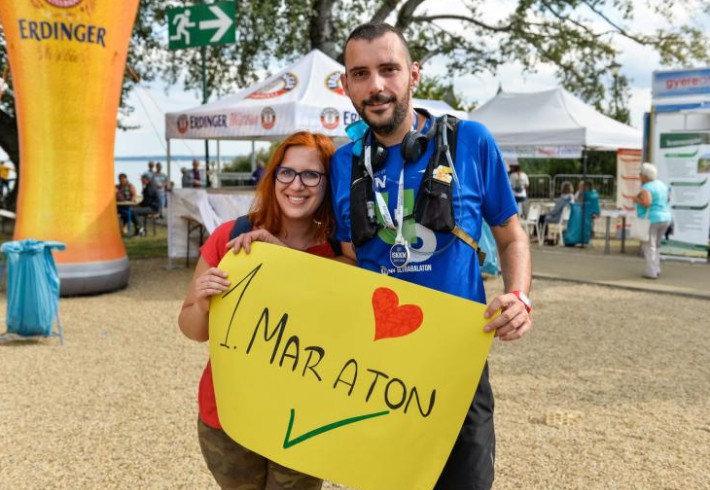 In 2022 our race is 40 km ONLY. Sorry about is, but these are true.
Marathon ... the distance that every runner must run at least once in a lifetime. The marathon distance is a challenge for every professional and amateur sportsperson, which is not only about physical performance but also bringing out the maximum from yourself mentally!!!
If you want to do it, you have to start preparing well in time, otherwise it would be a very bold decision to run this distance. Among runners there is a saying: 'a marathon starts after 30 km', which you have to take really seriously. After 30 km the reserves of the body become exhausted due to the extreme load, and that is why whether or not you manage the last kilometers greatly depends on previous reasonable and thorough preparation. It is great irresponsibility to take the distance and the period of preparation carelessly and without humility. Even if you feel you are in top form physically, you must be strong mentally too, because the saying that 'everything starts in your head' is absolutely true here.
It is worth reading some useful information about the Kilometres of Keszthely "almost" marathon race:
the track in Keszthely is a circular one, which means that the 40 km distance comprises 8 laps
in each lap there are 3 refreshment stations, i.e. after every 2 km the organisers offer you cold drinks, iso drinks, bananas, glucose, calcium, etc.
at every refreshment station there is also medical staff, so if you have a pain in your legs or you feel dizzy or nauseous, ask for help! Do not hesitate to stop for a while if you need to regain your strength!
it is also possible to deposit your 'individual refreshment drink' made according to your own recipe, so during the 40 km you can always have the drink you got used to during your trainings
the race will not be boring, since at the start-finishing gate and at the point farthest from the start we will be waiting for you with some upbeat music.
Every runner should bear the following in mind
due to the extreme dehydration, refresh yourself at every refreshment station and replenish the electrolytes because the success of the last lap and whether you will have enough energy to finish your marathon will depend on this
take your time to drink and eat
prepare for changeable weather; it might rain, there may be wind or scorching sun ...
run at your own pace; do not try to outrun the faster runners, especially those doing a relay, that is a huge difference!

Help a team! If there is a friendly team that need one more runner, run with them and enter the relay event too! As an individual entrant you can be the first runner of the relay team. You will compete with two start numbers, an individual and a relay one. It is important, however, that you have to register for both separately!
First almost marathon or the next one after several!

When you first do a new distance, your desire to test yourself is great, which also involves a bit of excitement. Who would not ask themselves: will I manage? It would be an honour for us if you ran your first almost marathon here with us. Come to the KKM, where there is a fantastic atmosphere and the speakers, the applause of the spectators and the upbeat music all guarantee that you will have a good time and a successful first almost marathon.
However, there are also fanatic athletes, hobby runners who are not satisfied by having run the marathon once but want to do it again and again. For them the goal is not simply to overcome themselves but to improve their time. This is a sport in which a single second can make you happy, because a marathon result of 4:00 is not the same as 3:59.
The organizers of the Kilometres of Keszthely running race do their best to guarantee a great experience and a good result regardless if it is your first or umpteenth race.

Race place: Keszthely, at the Center of Keszthely
| Date | Over 18 year | Under 18 year |
| --- | --- | --- |
| 2022.02.15. - 2022.03.15. | 8 000 Ft/person | 0 Ft/person |
| 2022.03.16. - 2022.06.02. | 9 000 Ft/person | 0 Ft/person |
Pre-registration closing: 2022.06.02.
Helyszíni nevezésre idén nincs lehetőség!