Children races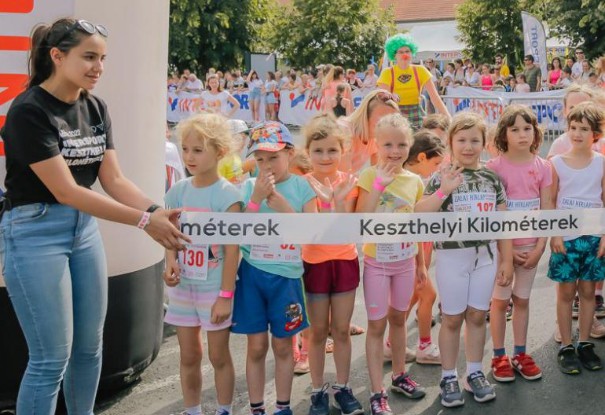 Running ... What makes this word a mom, a teacher or a coach think of? The child they bring up and teach.
Children do not care what the weather or the ground is like; they run anyway if they have a little spare time.
We would like them to continue doing exercise in their adolescence and adulthood too. That is why we, as running race organizers as well as parents, place increasing emphasis on children's running races.
So, everything will be the same as for the real, big runners.


AGE GROUPS
Children aged 0-3 run together with their parents, hand in hand, in boy-girl races. They are the "Clattering Feet".
Those aged 4-14 run in groups based on each year. So, every child competes with others in their age group.

THE SCHEDULE OF CHILDREN'S RAce
parents may accompany their children only in the "Clattering Feet" event (ages 0-3)

registration, which is still free, takes place on Saturday from 17:00 and on Sunday morning from 08:00 in the race office, where every child entrant has to fill in the entry form, which can also be downloaded on our website by parents and teachers and can be brought with them filled in -

NEW RACEOFFICE AT THE CENTER OF KESZTHELY

the entry form has to be signed by a parent, who also takes responsibility for their child's participation

children need to get in the mood, so we suggest that you should arrive at the race and get registered in time, so that the children will have at least 10-15 minutes to get ready and find their friends

after the events of the little children the announcement of their results starts immediately, and then after the events of the big ones the announcement of their results takes place, and the gold, silver and bronze medals are handed over
Running should be safe – basic rules for "Clattering Feet"
Dear parents, please, DO NOT run at your pace but follow the little one, their speed must set your pace. In this way, falls, accidents and injuries can be avoided and it will be guaranteed that you will see a smile on your child's face upon arrival at the finishing line and not tears.
Available distances:
| | |
| --- | --- |
| 0-6 years of age | 250 m |
| 7-9 years of age | 500 m |
| 10-12 years of age | 1000 m |
| 13-14 years of age | 1500 m |
starting separate boys' and girls' categories (if justified by weather forecast, boys' and girls' events may be united in one)

entry is still free of charge

entrants for the running races get armbands and start numbers

every participating child receives a Kilometres of Keszthely medal and a gift pack

every 1st, 2nd and 3rd runner in each age group is awarded a gold, silver or bronze medal
Entry is still free of charge! In order to prevent queuing, please, arrive at the race office with your entry forms already filled in –
download HERE
Children's entry forms can be submitted in the lobby of the Amazon Látogató Központ already on Saturday.
• 4 Jun 2022, Saturday 17:00 - 20:00
• 5 Jun 2022, Sunday from 12:00
SCHEDULE FOR Sunday
12:00 Registration for family running races starts in the theatre, where you can submit your downloaded and completed entry forms and get your start numbers.

| From 16:00 LITTLE ONES' (born between 2016 and 2022) events, continuously | distances |
| --- | --- |
| "Clattering Feet" running races with Daddy or Mummy for children born in 2019-2022 | 250 m |
| for children born in 2018 | 250 m |
| for children born in 2017 | 250 m |
| for children born in 2016 | 250 m |
| the common announcement of the results for the age group 2016 - 2022 starts after the events | |
| From 17:00 BIG ONES' (born between 2008 and 2015) events, continuously | distances |
| --- | --- |
| for children born in 2015 | 500 m |
| for children born in 2014 | 500 m |
| for children born in 2013 | 500 m |
| for children born in 2012 | 1000 m |
| for children born in 2011 | 1000 m |
| for children born in 2010 | 1000 m |
| for children born in 2009 | 1500 m |
| for children born in 2008 | 1500 m |
| the common announcement of the results for the age group 2008 - 2015 starts after the events | |